Cisco Phones
IP Phones - 6901, 6921, 7962, 7965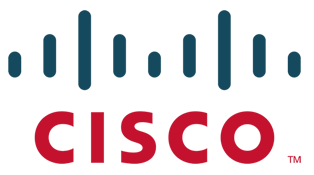 Take full advantage of converged voice and data networks while retaining the convenience and user-friendliness you expect from a business phone. Cisco Unified IP Phones can help improve productivity by meeting the needs of users throughout your organization. Advanced media endpoints in this innovative suite of Cisco Unified IP Phones enhance the end-user experience.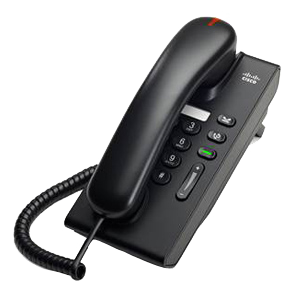 6901
The Cisco Unified IP Phone 6901 is a single-line endpoint delivering cost-effective access to Cisco Unified Communications. Designed with a trimline-like low profile, the Cisco Unified IP Phone 6901 is an ideal solution for lobbies, hallways, elevators, hotel bathrooms, or other settings that have an occasional need for voice communications services.
Features:

Fixed keys for Hold, Redial, and Call Waiting
Support of up to two concurrent voice calls with Call Waiting
Tricolor illuminated line key to indicate an incoming call, an active call, and a call on hold
Rounded ergonomic keys for enhanced tactile feel and a superior user experience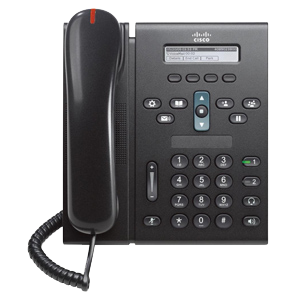 6921
Cost-effective and easy to use, the Cisco Unified IP Phone 6921 is a two-line IP endpoint supporting both video and light-to-moderate voice communications, delivered in an intuitive, clutter-free, ergonomic design.
Features:

Easy-to-read 396 x 81-pixel, white back-lit, monochrome, antiglare LCD for optimal viewing
Integrated 10/100 Ethernet switch for co-location of a PC reduces costs and wiring infrastructure
Full-duplex speakerphone and dedicated headset port provide flexibility in communication options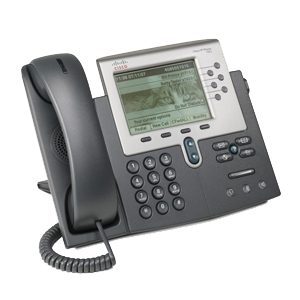 7962
The Cisco Unified IP Phone 7962G extends the features and functionality of the existing Cisco Unified IP Phone 7961G while enhancing the telephone user experience.
Features:

High-fidelity wideband audio for lifelike conversations; Internet Low Bitrate Codec (iLBC) support for use in lossy networks
High-resolution grayscale display for easy use of Cisco Unified Communications and third-party telephone applications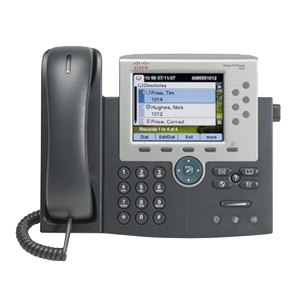 7965
Enhance the telephone user experience with high-fidelity wideband audio, new backlit color displays, and improved navigation options. The Cisco Unified IP Phone 7965G extends the functionality of the existing Cisco Unified IP Phone 7961G and 7961G-GE models.
Features:

High-fidelity wideband audio for vibrant, lifelike conversations; Internet Low Bitrate Codec (iLBC) support for use in lossy networks
Large backlit color display for easy use of Cisco Unified Communications and third-party telephone applications
Improved navigation cluster for easier navigation and feature and function selection
Gigabit Ethernet connectivity